If you're within the circle of furniture makeovers, my guest today is someone you'll know well, but if not, you're in for a treat! Cassie from Primitive and Proper is here today sharing a little about herself, her blog, and her loves. As for myself, I can honestly say I don't think there has been anything Cassie has made over that I don't love. She kind of good at what she does.
I love this recent grey-washed dresser, her black sheep stenciled entry wall, and this sophisticated coastal sideboard. Enjoy!
~~~~~~~~~~
Hi everyone!  I am so excited to be here today crashing Anneke's blog!  I am Cassie from Primitive and Proper, where I blog about furniture, redoing my house on a budget, and my business (a monthly barn sale called Sweet Clover).  And since it is my blog, I also subject you to random musings, photos of my children, photos of my dogs, and random photos of pretty things, like the sunrise taken on a morning walk…
I am thrifty to the core, pretty much in all aspects of life.  That's me with one of my favorite finds from the Country Living Fair….
Anneke and I met I feel like years ago (in blogging terms) due to a shared passion for furniture makeovers.  Over the years I have made over SO many pieces of furniture that it's hard to name favorites.  However, two that rank right up there are two that I have kept for myself.  First there is my bedroom dresser….
And here it is in our master bedroom…
And a recent favorite is the mid century sideboard I searched high and low for in my dining room…
Outside of running my mouth and running my house I also run a vintage barn sale, called Sweet Clover.  We are open typically once a month and feature several vendors with loads of awesome vintage goodies.  If you are in the Frederick, MD area check us out!  Here is a little snippet of our two story barn…
And of course aside from my house and barn, at the base and core of it all, is my family.  My husband and I just celebrated 10 years together.  I personally celebrated the fact that he has put up with my craziness for 10 years… I think I should have given him a medal for that!  He is the manual labor of my operation much of the time, and deals with my "creative" mind…
But look at that, he still loves me!
And we have been blessed with two of the most amazing kiddos in the world…
My blog's tagline is "life, paint, and the pursuit of happiness", but I think I've already found happiness.  And I intend to keep it!
Thank you so much, Anneke, for having me here today!  So great to meet all of your readers!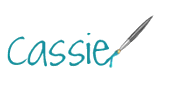 ~~~~~~~~~~
Oh my gosh I about died when I saw that picture about the tabs, because that is SOOOO me!!! Lol! Guilty, guilty, guilty! Love you, your family, and your blog Cassie!!! Thanks for being my special guest today!
Thanks for stopping by today!
~Anneke
Do You Know How Much I LOVE Connecting with You?!
Comment on this post or chat with me at one of the links below.
 Facebook ~ Pinterest ~ Twitter~ Instagram