Are you interested in learning how to refinish furniture and gain the confidence to create YOUR own masterpiece?  I'm here to help!  To learn more about this project in the works to help you, CLICK HERE and find me on Periscope at @coastalcollectiveco!
Join me on Instagram and Pinterest to connect on all the behind the scenes action and find my Top 10 Tips to Smarter Blogging and Creative Blogging Resource Guide HERE!
I love before and afters. Really…who doesn't? I picked up this beautiful antique dresser not too far from our home and uploaded it to Facebook with instant interest! You all make what I do so fun.
I hate to break it to you, but she's already sold. I almost kept this one myself, but I know it's going to a great home ~ this is the gal who e.mailed me and said, "Get your Farm Chick's Show advance tickets now! They'll be sold out by the end of the day!!!" No joke….they were sold out by 3:00!!! So thank you my dear!
BEFORE
AFTER
I sanded the drawers down and did a 'wash' over the wood (with ASCP French Linen) so you could still see the beautiful grain. I had a pretty difficult time with the top on this one. I really wanted to sand it down and finish it like the drawers, but it started doing this:
Yikes!!!
So I decided to paint the entire piece with French Linen ASCP, but then I
ran out of paint :'-(  and it looked too streaky on the top.
So I waxed it with the clear wax, then the dark wax.
I didn't really like that either. Bummer….
SOOOO…then I stained the top with my new Varathane Kona stain…
Here we are in process.
I let it sit about a minute or two, then wiped it off with a washcloth and buffed it out.
You should do this lengthwise in the direction of the natural grain of the wood.
And here was the end result.
Anyone knows we don't always get what we want, but we can end
up with some happy surprises in the end.
I would have still preferred my first idea, but I'm still pretty happy with this.
Join me on:
Sharing at: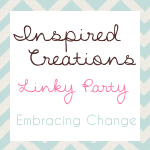 THANKS!!!